The Can-Am Team
We know recreation vehicles and we're enthusiastic users
Can-Am is a family business built on a 50-year tradition of value, service and craftsmanship.
Started by Andy Thomson Sr. in 1970, Can-Am RV was built on his vision of an Airstream dealership with a superior service department. With a background as a mechanical troubleshooter for Otis Elevator, Andy was well-equipped to tackle the demands of the RV service and repair business. As an avid Airstreamer, he loved travelling the world in his travel trailer and wanted to share the experience with others.
Can-Am is operated today by sons Andy and Kirk Thomson along with their team of expert technicians, well-versed sales staff, and experienced support staff.
Can-Am's team is bound by a passion for RVs and the RV Lifestyle. Our success is based largely on our desire to share that passion: through service, sales, education and fun.
Read more about our history.
Many of our employees have grown up with RVs and many more currently enjoy the RV lifestyle. We know recreation vehicles and we're enthusiastic users.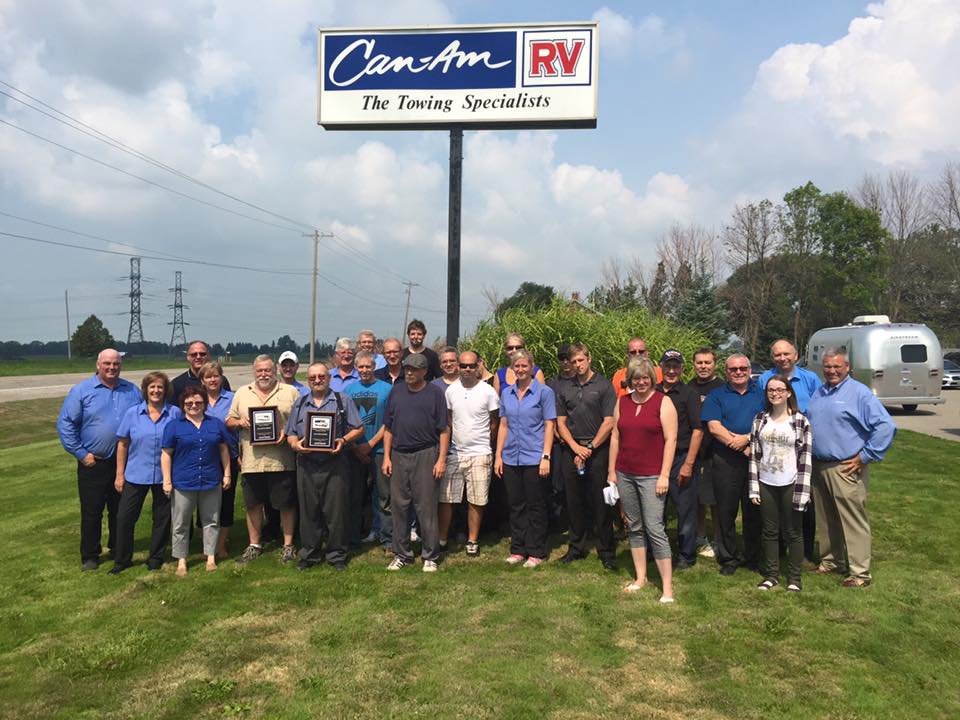 Our sales team will help you find the trailer that is right for you. We take the time to understand your needs and ensure that your RV purchase will satisfy you, your family, and your lifestyle now and into the future.
Can-Am's customer care includes:
educating our customers about travelling and living in an RV
ensuring they are equipped to tow safely and securely
helping them find the RV that suits their needs and desires
delivering a high-value, fully-tested product and
servicing that RV well into the future.
Our friendly and knowledgeable service writers Peggy Langs and Ron Villenuve are the pros you'll speak with on the phone when determining your service needs and scheduling them.
Contact them directly at: peggy@canamrv.ca, ron@canamrv.ca, and service@canamrv.ca.
They complement our team of extensively trained and certified technicians, housekeeping and maintenance staff.
Owner Andrew Thomson grew up in the RV industry, taking over Can-Am RV Centre from his father, Andy Sr., who established the dealership in 1970.
Andy relies on his dedicated service team, parts team, sales team and administrative personnel to help make Can-Am a success.